Stickers are some of the most affordable and most effective items you can use to promote your business. With a high quality adhesive and vinyl finishing, every sticker can be applied easily to all kinds of flat surfaces, from notebooks and laptops to windows and car exteriors. Best of all, we offer custom shaped cuts so that you can flex your creativity and show off your company logo and custom designs at their finest.

When customers order takeout from your business, they want to know that their meal has been prepared with the utmost attention to safety. With our customizable safety seals, they will know for sure that they're receiving their favorite meals free of tampering and straight out of your kitchen. Apply these seals to any carryout meals and even catering opportunities that can expand the reach of your brand to new patrons.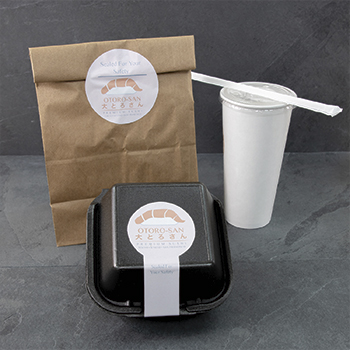 Adding extra creative flair to your establishment can make all the difference when trying to make a memorable impression. We combine full color printing and vinyl finishes with our customizable graphics to ensure your brand logo and designs promote your business with the professionalism and style it deserves. Use them to establish social distancing, provide directions around your establishment, and much more.