ELITE CUPS FOR COLD BEVERAGES
Custom cold cups are an excellent way to promote your business and market your brand name. Given their low cost and wide appeal, custom cold cups are an affordable way to reach a large number of potential customers. By customizing them with your company logo or slogan, you can create highly visible marketing tools that will help to increase awareness for your brand. Both the paper and PET plastic are also lightweight and recyclable, helping to reduce environmental waste. Wherever your brand does business, custom printed cold cups are an excellent way to get your message across.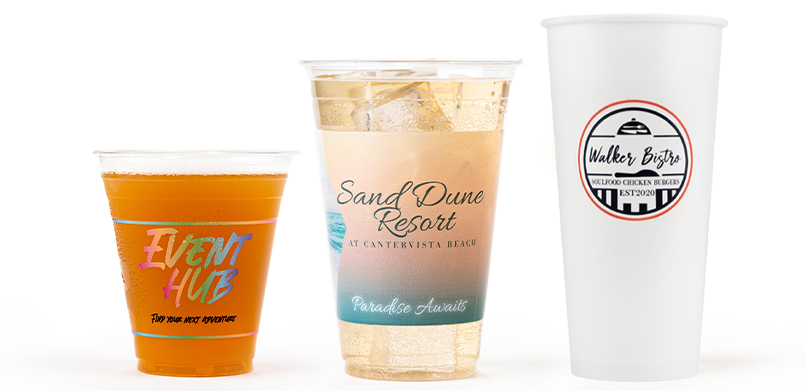 Custom Printed PET Plastic Cold Cups
Basic
Pro
Order Minimums
One Case Minimum
One Case Minimum
Print Area
Limited


varies depending on size

Full Wrap
Imprint Colors
1-4 Imprint Colors


with 3 max colors on one side

Full Color
At Radix Branding Solutions, we offer disposable cold cups that are made from sturdy, recyclable PET plastic. This crystal clear plastic offers the ideal material to show off impressive beverages and custom designs. In addition, we offer two comprehensive printing options to ensure your printed message makes the perfect impression with customers! Our custom plastic cold cups can be printed in as little as one color with our basic option or with unlimited colors on our full color, full wrap artwork available through our NEW Pro options! So if you're looking for cold cups that will make an unforgettable impression, look no further than Radix Branding Solutions!
For simple and sleek brand logos, basic printing offers the easiest and most expedient option for branded cups. You can choose from one to four colors in your design and have your cups produced with faster turnarounds, ensuring products are delivered in plenty of time for whenever you need them. Best of all, prices are at their lowest and most flexible with this option, helping you save money without sacrificing branding quality.
Our Pro printing line offers you an incredible amount of creativity when designing custom clear cups. With no color limitations, you can explore all kinds of creative designs that reflect your brand identity. You also get a larger print area that can help make your logo bigger, allow space for special event details, and even fit additional logos for co-branding purposes. If you want to flex your creativity and print bigger and bolder graphics, Pro printing is the choice for you.

Custom Printed Paper Cold Cups
Custom printed paper cups offer an innovative and cost-effective way for businesses to promote their brand and market their products. Effective branding can be achieved through a simple logo, theme or slogan on the side of the cup, which adds a personalized touch and creates a more memorable experience for consumers. In addition, the paper cups are inherently disposable which further accentuates the convenience factor in terms of clean up and waste control. No matter what type of business you operate, custom printed paper cups provide an invaluable marketing tool that's guaranteed to leave a lasting impression on your customers.

Frequently Asked Questions:
Can you put cold drinks in paper cups?
Thanks to a strong moisture-resistant interior lining, paper cold cups are great at both preventing leaks and avoiding the sogginess that occurs when paper interacts with water. With a tightly-wrapped design, paper cups are also effective even when holding a cold drink full of ice cubes.
What are paper cups lined with?
Paper cold cups utilize a polyethylene lining that is water-resistant and safe for humans. This lining not only prevents leaks, but also keeps the paper itself from growing soggy or weak. Best of all, the lining is made from a plastic resin, which makes it safely recyclable.