Disposable ECO Friendly PLA Cups
REDUCE YOUR CARBON FOOTPRINT
Our eco-friendly custom cups are an excellent way to promote your business with distinction. Made using PLA – a material made from renewable resources – these cups are durable and can be beautifully custom printed with your company logo or slogan. Custom plastic cups are a popular choice for promotional giveaways and corporate events, as well as for use in restaurants, cafes, and bars. Create your own cups as an affordable way to reach a wide audience with your marketing message!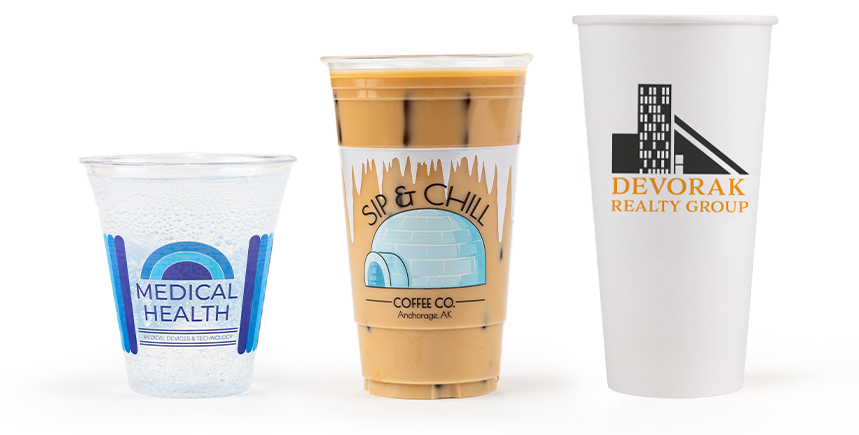 Custom Printed ECO PLA Plastic Cold Cups
Basic
Pro
Order Minimums
One Case Minimum
One Case Minimum
Print Area
Limited


varies depending on size

Full Wrap
Imprint Colors
1-4 Imprint Colors


with 3 max colors on one side

Full Color
Our disposable eco-friendly cold cups are made from clear compostable PLA plastic material, making them the perfect choice for cold beverages that are also environmentally friendly. Custom cold cups can be printed in as little as one color or in full color/full wrap brilliance with our Pro line! A variety of stock designs and sizes are available to choose from that can be imprinted with your company name or logo. Whether you're hosting a corporate event, trade show, or fundraiser, these disposable plastic cold cups are a practical and affordable solution for serving refreshments. Plus, they're much more convenient than using glassware which can break and create a huge mess.
When it comes to choosing the right printing method for your cups, you'll want to consider all of your options. Basic printing is a popular choice for simple and sleek logos. With this method, you can choose from one to four colors in your design. Best of all, prices are the lowest and most flexible with this option, so you can save money without sacrificing branding quality. If you're looking for an easy and efficient way to brand your cups, basic printing is a great option.
Our Pro printing line offers you the most creativity and flexibility when designing your custom clear cups. With zero color limitations, you can explore all kinds of creative designs that reflect your brand identity. You also get a larger print area and full-wrap capabilities that allow for a larger logo, additional space for special event details, and even additional logos for co-branding purposes. For those who want to flex their creativity and utilize the most possible space on their cups, Pro printing helps you get the most out of any design.

Custom Printed ECO PLA Hot Cups
With custom printed eco-friendly hot cups, you can promote your business and reduce your carbon footprint simultaneously. Made using a PLA plastic lining made from plant-based material, every cup offers a leak-proof interior that makes every cup compostable after usage. With vivid and detailed full color printing of your custom logo or artwork, these cups can double as impressive brand advertisements – particularly when combined with lids and taken on the go.

If you're looking for an eco-friendly way to serve hot beverages, our blank eco-friendly paper cups are a premier option. These cups are made from recycled paper, and they feature a leak-proof PLA plastic lining made from a plant-based material that is compostable. Best of all, they're affordable and available at low minimums. So if you care about the environment and want to reduce your carbon footprint, blank eco-friendly paper cups are the cups for you.